Our philosophy
Our Schloss-Hotel Herborn is a place of relaxation and a meeting place for happy, festive hours. Here our guests should recharge their batteries, have fun and relax. Stress and hectic end at our front door. We want to fulfil our guests' wishes and meet them with cordiality and attention.
Our employees are as important to us as our guests. They make our house come alive, they enjoy our trust. They welcome our guests or work behind the scenes for their well-being. They fulfil their tasks with pleasure and are guided by high quality and service standards.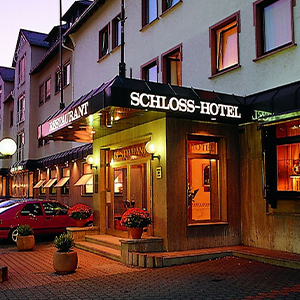 Our Schloss-Hotel is a traditional establishment; its roots go back to the 1950s.
The issue of nature conservation has been close to our hearts for a very long time. Doing business sustainably is always an important goal for us that we will not lose sight of. In detail, this means the use of predominantly regional products, low-packaging materials and renewable energies, as far as this is possible for us.
The fact that we attach great importance to attention to detail is visible throughout the house. Small antiques, fresh flowers and various art objects have been decoratively displayed. Our fresh cuisine is regional with a few international touches. Seasonal offers on our menu are complemented by exotic specialities.
Conclusion: Our Schloss Hotel Herborn is a lively, family-run hotel, both tradition-conscious and innovative. A house for celebrating, for living and for feeling good. The desire to make our guests happy and to invite them to come back is our ambition.