Oh you beautiful Westerwald
The Westerwald is a German low mountain range and is commonly defined as the land between the rivers Dill in the east, Lahn in the south, Rhine in the west, Sieg in the north and Heller in the north-east. It is part of the Rhenish Slate Mountains on the right bank of the Rhine and stretches across the federal states of Rhineland-Palatinate, Hesse and North Rhine-Westphalia. Its highest elevation, 657.3 m above sea level, is the Fuchskaute, which belongs to the High Westerwald.
The name "Westerwald" was first mentioned in 1048 and at that time only referred to the forest areas west of the royal court of Herborn. It was not until the middle of the 19th century that it became generally used for the entire low mountain range.
The Westerwald is increasingly developing into a region with attractive local recreation areas. One focus here is the numerous hiking opportunities, especially the Westerwaldsteig, a 235 km long long-distance hiking trail opened in 2008. From Rheinbrohl to Bad Ems, the Limes hiking trail leads through the Westerwald as a section of the German Limes hiking trail.
(Source: Wikipedia)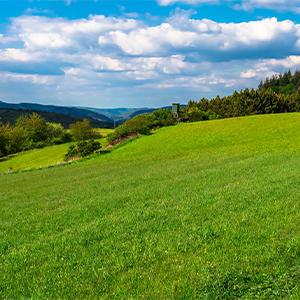 The Wersterwald Song …
… is a German folk song in which the Westerwald is sung about.
Its origins go back to the 19th century.
O du schöner Westerwald (Eukalyptusbonbon)
Über deine Höhen pfeift der Wind so kalt
Jedoch der kleinste Sonnenschein
Dringt tief ins Herz hinein