Rooms, Halls & Parlours
Celebrating is beautiful and important. Celebrating is laughing, dancing, feasting and being happy. You invite the people who are dearest to you and whom you like to have around you. Celebrating is good for the soul and is an indispensable part of our lives. How wonderful when it is a successful celebration that is remembered with pleasure for a long time to come. We at the Schloss-Hotel prepare everything so that you, as the host, can only worry about your guests. Entrust us with your celebration, because we know from experience what is important.
Whether a small or large celebration – we have all room sizes between 10 and 120 people. You will find a detailed room overview below. We would also be happy to show you our rooms, parlours and halls in person by prior appointment. Just give us a call or send us an e-mail.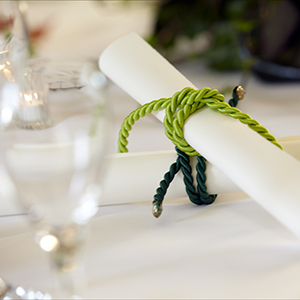 Room sizes and seating arrangements
| Room | Cinema | U-shape | Block | Parliamentary | Round tables |
| --- | --- | --- | --- | --- | --- |
| Oranien 49 m² | 35 | 20 | 16 | 20 | - |
| Nassau 50 m² | 35 | 20 | 16 | 20 | - |
| Olevianussaal 110 m² | 80 | 30 | 24 | 60 | 70 |
| Herborn room 22 m² | 20 | - | 16 | 10 | - |
| Kristallsaal 170 m² | 120 | 36 | 24 | 70 | 120 |
| English room 35 m² | 30 | 14 | 18 | 18 | 32 |
| Westerwaldstube 30 m² | 20 | - | 10 | - | 30 |